ABOUT
GIA's Retailer Support Program
GIA's Retailer Support Program makes it easy for you and your sales staff to educate customers about the quality of diamonds, colored gemstones and pearls, and the value of a GIA grading report.
Explore the many point of sale tools and free downloads available. Educational materials such as the 4Cs of diamond quality brochures and counter displays can be ordered and delivered to your store. Signage tools are available that let customers know that you carry diamonds and colored gems with GIA reports. And because diamond education happens online as well as at the counter, the program also provides free videos, images, logo lockups and interactive scales you can download and use on your website or social media pages as well as your advertising.
As creator of the 4Cs of Diamond Quality and the International Diamond Grading System™, a standard everyone can rely on when evaluating diamond quality, GIA provides these resources to ensure that your customers purchase diamonds and gemstones with knowledge and confidence.
No membership or registration is required to use Retailer Support Program materials, we only require that retailers adhere to the Terms of Use and remember that use of these materials and resources does not imply any partnership with GIA.
Featured Retailer Products
Featured Instruments for Retailers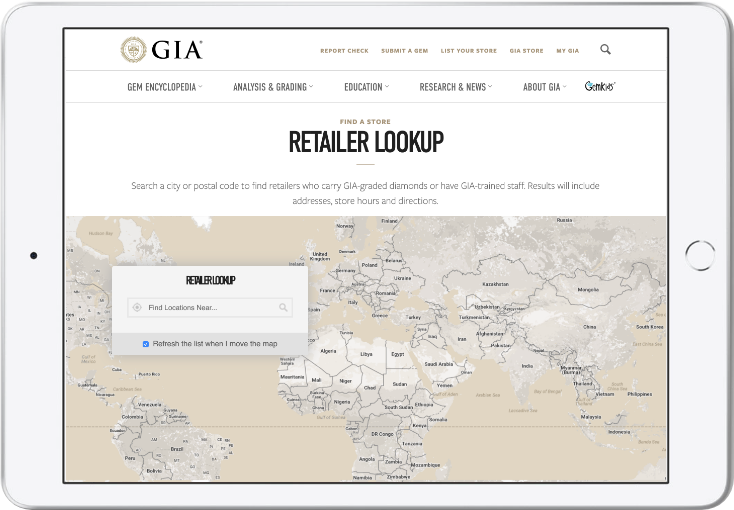 GIA Retailer Lookup
GIA's Retailer Lookup is a free online listing that connects diamond-buying consumers with retailers that carry GIA-graded diamonds or have GIA-trained staff. Upon entering a city or postal code, consumers will find a list of registered retailers, complete with store hours, addresses, contact information, and directions. Changes to store listings can be made at any time.
List My Store